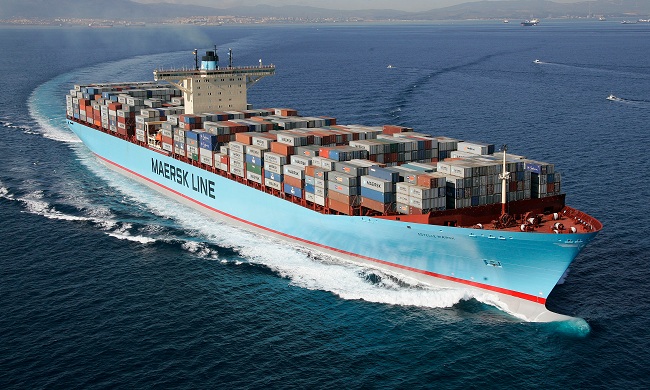 Maersk Shuts Down Some Systems to Help Contain Cyber Attack
BY: CHRISTIAN WIENBERG
June 28, 2017, 12:28 AM PDT June 28, 2017, 2:23 AM PDT

A.P. Moller-Maersk A/S has shut down systems across its operations to contain a cyber attack against its computer network as it assesses the full impact.
Vessels at its Maersk Line unit, the world's largest container carrier, are maneuverable, able to communicate and its crews are safe, but the Copenhagen-based company isn't able to accept bookings from clients.
"Our portal is down and we are not able to take on new orders until we get it back up," Maersk Line Chief Commercial Officer Vincent Clerc said by phone, declining to say when systems would return to normal. "We're being very cautious to ensure that as we bring the applications back up, the attack is contained and rolled back. It limits the accessibility we have at the moment."
Maersk's APM Terminals unit, which operates 76 port and terminal facilities in 59 countries around the globe, is impacted at a number of sites, including the Port of New York and New Jersey, the largest port on the U.S. East Coast, and Rotterdam in The Netherlands, Europe's largest harbor.
A terminal operated by Maersk at the Jawaharlal Nehru Port Trust, a facility near Mumbai which is India's biggest container port, was unable to load or unload because of the attack. With the Gateway Terminal India facility unable to identify which shipment belongs to whom, the port is clearing cargo manually, Chairman Anil Diggikar said in a phone interview.
Maersk's energy units, which include North Sea producer Maersk Oil, aren't operationally affected.
The attack, similar to the WannaCry virus, has now reached Asia after spreading from Europe to the U.S. overnight, hitting businesses, port operators and government systems. Hackers are telling the victims to pay $300 in cryptocurrency per infected computer to unlock their systems.
Customers with goods in transit should expect delays, Clerc said.
"There will be some level of impact on the orders we are in the process of transporting right now," he said. "I don't think this is of a magnitude that it impacts global trade. It will impact what we do."
Maersk's container line transports about 15 percent of the world's seaborne manufactured trade. The attack comes at a time when Maersk has rolled out a new digitization strategy to modernize an industry where most bookings still take place by telephone.
Clerc said the company hasn't paid any ransom money to the hackers.
"What we understand is that the channels the hackers have chosen for ransom money has been shut down by governments, so that is contained now," he said.